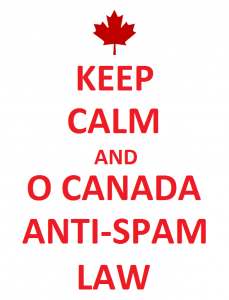 The Canada Anti-Spam Law (CASL) goes into effect this next Tuesday (July, 1). Hat tip to my my good friend and neighboring Canadian, Stephen King, for alerting me to this law yesterday in his post and its implications. In this post yesterday, he notes that violation of this law can result in a $10M fine. He points out that marketing mail lists can shrink by up to 87%. While US companies may not experience that level of reduction, it is still important to note that the Canadian market is about 10 times less the opportunity than than the total US market; thus, the Canadian market still represents a significant revenue source.
Are you Ready for CASL?
Stephen would like to know if the business communities in United States, Canada and around the world are aware of the new restrictions regarding sending electronic communications to Canadian citizens. We developed a brief survey – takes less than 15 seconds to complete – to let you tell us if you are aware of CASL. Please complete the survey using the link below.
We will publish the results next week.